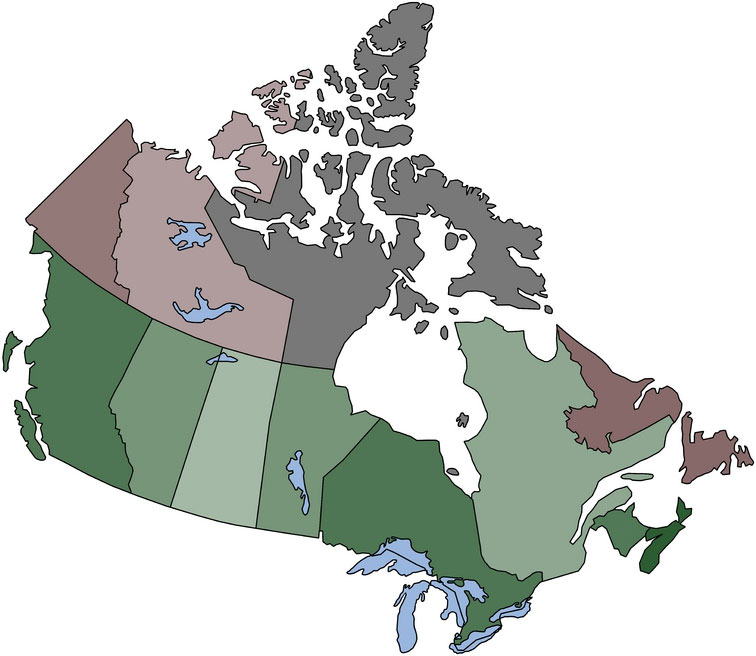 Canada outline map, showing
If you read my original post, you'll notice that I was referring to the fact that many programmers are careless about optimizing their code all because they can count on a large amount of resources, and because they get lazy.

I think anyone programming above assembly language and/or on a device with more than about 16K of memory, gets lazy :)

Most Mac programmers are good at optimizing, while many Windows programmers are not.

Where does Apple's horrible iTunes for Windows fit into this myth?
---
In 2002, China#39;s Long March
batitombo
Apr 25, 02:20 PM
I'm so over this ****
---
MAP NO. 4
What do you guys think the new iMac specs will be like?

Let's say on the 17" iMac maybe a 250 gig hard disk, 1 gb ram, upgraded video card, and conroe at some speed who cares what for $1299? Sounds sweet but not outrageously impossible.

I already have those stats, I want to see them drop in a high-end Conroe (~3GHz) so I would know that I could feasibly upgrade my 2GHz Core Duo in the future. It's possible, isn't it? I mean, the G5's were really hot, and the iMac enclosure could handle that, wouldn't the new Intel ones be able to handle the Conroe Extremes?
---
Map of hong kong flag free
BTW...

Quick question...

How does Radio Shack know what your upgrade
price will be?

I mean, I know already I am not eligible for a
discount and will have to pay $399 or $499.

Does Radio Shack have access to your AT&T
account to determine your upgrade price?
---
China: A Complete Resource
Umm. What happened in here?

Can we reurn to some common respect please? This spat isn't constructive.

True enough.

I ... well, I won't go there, too likely to throw more fuel on the fire.

I'll drop it if she does, fair enough?
---
The Population Density map of
That is what the 49$ 3GS is for...

My buddy just got one the other day. Why cause it was 49 bucks...

and i got an HTC INspire for $20 that is better than my old 3GS

I think the $49 3Gs is AT&T's attempt to offer something that Verizon does not. Previous to Verizon getting the iPhone, the cheapest iPhone price was $99, and once the iPhone 5 comes out, I expect that there will no longer be a $49 iPhone option.

Offering a two-year old model at a discount is not what I call a deal -- and mind you -- I own a 32GB iPhone 3Gs while I am awaiting the iPhone 5. I love my iPhone 3Gs, but I would not advise anybody to buy one today with the iPhone 5 just around the corner.

Apple would do better creating a trendy newly-released iPhone-nano for a lower price and perhaps use iAd to help monetize it (the same way Amazon is doing with Kindle). Teens would much rather own a trendy new phone than a two-year old model that looks dated when held up next to its successor -- but that is just my guess at what the market would do -- I am certainly not all-knowing.
---
physiographic regions
Popeye206
Apr 11, 02:23 PM
Are you serious? The Moto Droid (i.e.: the original one) is slower than molasses. You cannot be talking about the original Verizon Droid. That phone under-delivered out the gate. My friend from work whose entire family uses Verizon bought a Motorola Droid and she thought she was getting the equivalent of an iPhone and hated it ever since. She was jumping up and down when Verizon got the iPhone.

<<<Clip>>>

The moral of that story is that Apple needs a cheaper entry point for an iOS smartphone if they want to command market share and especially to put their phones in the hands of more teenagers.

I don't think that's the market Apple wants. They already have the #1 selling smart phone. They make more profit than all competitors combined off of the iPhone. The Cell phone market is very fluid and Apple knows it just has to keep producing the coolest and more desired phone and they will always have a decent share of the market and make tons of money.

in the mean time, Moto, Samsung, HTC, LG and others all battle it out with the same OS and dropping prices to get market share. A race to the bottom strategy that I'm not sure will last forever.

All Apple needs to do is keep the "coolness" coming. Reward us with nice iOS updates and keep us happy with the best support in the market.
---
Geographicterrain type map
Since I'm neither a criminal nor paranoid, I thought it was kind of cool/interesting too.

I was looking forward to seeing mine seeing as I've been doing a lot of travelling last few months, then I remembered I'm still running 3.1.3.
---

1961 U.S.G.S. Physical Map of
11thIndian
Apr 6, 07:25 AM
.. I never use it, but I use Motion and Soundtrack a lot and I need true 3D in Motion, even simply 3D. I need no crashing Motion. I need optimised and 64-bit Motion. I want it now, please!

What do you mean true 3D? Motion 3 integrated 3D reflection, shadows, depth of field, etc.. It was around that time I stopped using After Effects. There are still things that AE can do that Motion can't, but that's mostly due to 3rd party plugins.
---
Map of Vietnam with
Uh, no. I do think that's what you meant. That's just not what you said.

Just because lots of people you know, plus a couple of people on these forums say that they've switched, you can't generalize that into a broad statement that covers everyone everywhere. It might be a localized trend in your area. Just like I can't say that just because none of my clients has switched platforms, that there's NO migration off FCP to AVID or Premier.

Uh, except I said "lots of professionals" and then you claimed I meant "professionals that I know" and then you acknowledged that it's not just professionals that I know.

Do you honestly think the people I know and the people that responded with a similar sentiment on this message board are the ONLY pros who have switched to Premiere? Are you one of those extreme skeptic empiricists that doesn't believe Antarctica exists, for example, because you've never been there?
---
physiographic one.
greenstork
Jul 14, 04:14 PM
I'm salivating for a new desktop as I have been limping along with my dual 1GHz mirrored drive door (wind tunnel) for the past few years. I'll likely buy a middle to top end Mac Pro as soon as they are released and although I'd love a dual woodcrest, I'll be happy too with a single conroe.

On a related note (rant)...

I think Apple is shooting themselves in the foot not coming out with some sort of digital media center / DVR. Along with a computer and television, it's the one electronic appliance that I cannot live without. The playing field is so ripe too -- TiVo is just establishing itself with cable companies and moving out of satellite, cable company DVR's suck, there is no easy ability to rip a DVD to your computer and put it in a library, there is no easy to use set top box option to buy movies.

Think about DAPs when the iPod came out, it's the same landscape. Sure, there were digital audio players that all paled in comparison to the iPod. I think Apple has that same opportunity with a media center/DVR.

The problem, I presume, is that the MPAA & broadcast association would never let it happen. Apple will never be granted permissions to sell movies if they come up with a device to rip DVD's or record television.

One can always hope. I know Apple could make a device that absolutely blows away everything that's out there right now, and it seems short sighted to not develop a product that begins to merge computers and television, this merger is inevitable. So while everyone's going off about FW800 ports in front and the location of the power supply, I'm wondering where the TV tuner and CableCard slots are.
---
World map political physical
deadworlds
Mar 25, 11:58 PM
I'm really not looking forward to Lion at all. It just seems like a huge step backwards for those of us that use our computers as real computers and not toys. I have an ipad, an iphone and several macs, but they each have specific uses. I don't want my desktop machine to be anything like my ipad, one is for doing real work and doing my daily stuff on, the iOS gadgets are for fun games and browsing mostly.

I LOATH the whole idea of merging OSX and iOS, they shouldn't even be related. I hate how they are ruining expose, I really don't want my stuff groups by app, I want to see every window like it is now. I have no use for "full screen" apps, why would I waste all my screen real estate only showing one thing at a time? I hate the idea of getting programs through the app store on the Mac, I refuse to do that. I hate all the gesture crap going on, sure it's fine for laptop users, but it's of no use to me on my mac pro.

I think all this is just a dumbing down of what is an amazing OS. I don't use my mac with dual displays anything like I'd use an iPad, so why put that crap in there? I just don't like the direction they are taking OSX in general, and I doubt I will upgrade from snow leopard. To me this is very sad news, the day OSX and iOS merge is the day the mac dies.

I 100% agree!
---
of pintout china africa
Just to clarify a few things...

Merom does NOT use less power than Yonah. The cause of confusion about this is that Merom DOES use less power than the Pentium M. And Conroe uses less power than the Pentium D and Pentium 4. And Woodcrest uses less power than the previous Xeon chips. So people are confusing the latter as a misrepresentation of the former.

Merom uses the same amount of power essentially per MHz as Yonah. However, it is 20% more efficient than Yonah is. So while putting Merom into any of the current machines will NOT make them cooler or use less power than the Yonah versions, they will all:

1 - Be approximately 20% faster at the same MHz rating.
2 - Have 64-bit capability.
3 - Have enhanced SSE (closer to AltiVec than previous Intel chips.)

Some of the Merom chips also have twice the L2 cache (4 MB vs. 2 MB) which would also increase speeds, but the other items above are more important in the grand scheme of things.
---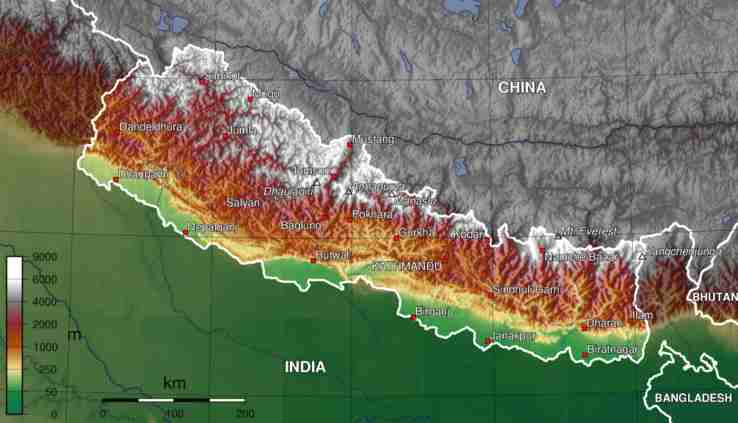 Nepal topographic map
fullmanfullninj
Apr 8, 02:03 AM
Just to let y'all know, unless someone else knows otherwise, Best Buy makes zero off Apple product sales (that haven't been marked up).

I read this thread and I noted that someone pointed out that BB apparently marks up some items -Airports, Time Machines, etc. I found this odd since Apple controls all the pricing, but eh, not going to question that since those are the facts I'm assuming (can't be bothered to go on a comparing spree).

Anyway, the iPad 2s aren't marked up, thus they make zero.
Each department should be meeting their budget daily. How do they do that? By selling products they make notional margin and that allows that department to meet their budget. On a slow, sh-tty day, a department may only be 70% to budget; on a fast, awesome day, a department may be 110% to budget.

But when you make zero off iPad sales, keeping them away from customers does not help notional margin. Doesn't bring them any closer to hitting budget. The only way they'd make money on that iPad sale would be selling accessories or the Black Tie protection. But that's entirely something else.
Best Buy makes zero notional margin on iPad sales, so they're not withholding stock to meet daily budgets.

I can't explain why they're doing this, but given my knowledge, I can invalidate the claim that managers are hoarding iPads so that they can meet budget every day.

Cheers! :D
---
map of bangladesh and
---
map of bangladesh and
Thank you!

I wanted to write every point you just made .. i'm just glad other people are capable of rational thought. It seems as though these people expect that if they don't like something then no one will, as though their uses are the most important and anyone else who disagree's doesn't use their computer for 'real work'.

Every one of the new features in Lion i am really excited about, the integration of server allows me to use my old Mac as a media server, Versions is a killer feature, as a developer i've been using local repo's forever. FDE is epic, anyone who cares about data security and used FileVault understands how much of a pain it is. I use my notebook and plug it into a large screen when i'm at a desk, i'd like fullscreen apps when i'm in notebook mode thanks. I could go on and on ...

I'm running Lion, and personally I hate Mission Control. There is no way to turn it off (there really should be). It's such a pain trying to select the other windows when they are grouped together. Horrendous implementation.

Full screen apps...If I wanted to run and see only one app at a time....I'd use my iPad!! Fullscreen apps are just gimmicky.

Resume...crappy, especially if you're not on a $$$$ SSD. It loads every program that you were using before reboot, good idea, but it just takes forever to use my computer after rebooting since it's loading 10+ apps!
---
Blank Outline Map -- East Asia
Sirmausalot
Apr 10, 11:42 AM
I think the studio concept, as we know, it will be gone. It will all be one truly integrated application. Most importantly, full audio editing will be integrated obviating the need for OMFs and conforms for the person who does all of their own work.

This will include a powerful titling tool, Motion graphics, compression, sound. There shouldn't be a need to launch an external application. Integrated Internet delivery will be comprehensive to social media, iDevices, and anything in the cloud.

DVD Studio Pro will get a full overhaul and fully support The Bag of Hurt Blu-ray -- on an external burner for the new iMacs which will also be announced. Again, physical media gets an external treatment and the application will be the sperate step child of the newly integrated Final Studio.
---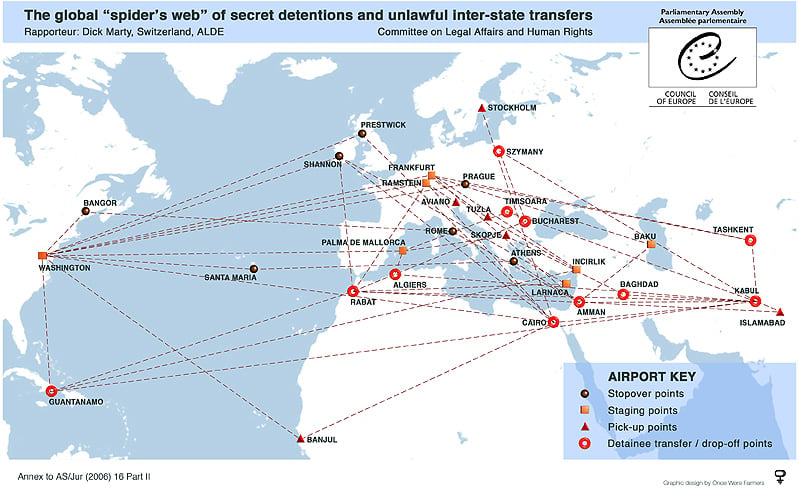 couple of maps of
maclaptop
Apr 12, 11:03 PM
The sheer amount of people posting here, saying they're moving from iPhone if the new model is delayed significantly is quite telling really.

We're a community that thrives on tech news, but the average joe doesn't care and if his/her contract is up dior renewal between June and the release date and there's no new iPhone to fill that void, chances are they AREN'T going to hang around for iPhone 5.

I've had iPhones on the 'odd numbered cycles' (ie. 1 and 3) and I really am thinking of switching. I don't want the hassle of having to wait 2/3/4/however many months. Call me fickle, or having no patience, but MY OPINION is that Apple just isn't keeping up with competition.

As much as I like Apple products, I believe you have some very valid points. My iPhone 4 is a good phone, but its not Apples best work. Its well documented that the engineers discovered the antenna fault well in advance of launch, advised Steve Jobs and he waived it off, ignoring them. Its that cavalier attitude that will at some point come back and bite them.

Yet Steve has cultivated a massive cadre of followers that will live in defense and denial, while worshipping his every move. They have closed their minds to anything outside of Apples walled garden. I can see how attractive they find it, simple and easy.

That said the choices like Android are the very reason our free enterprise system works so well. If the Google OS was as bad as it's made out to be in this forum, I can assure you there would not be the thousands of posts about it, that appear in this forum.

Viva Le Choice
---
In 1989, this map and report
There's allready en new beta of Adobe's Lightroom, Does that one run native under on the intel machines?
---
My only dealings with Apple Support was a few years ago. On Christmas day the modem on my Pismo went out. I just for a lark called to see if anyone was in and not only was someone there I was taken care of quite nicely. The next day I had a box to send it off and three days later I had it back. Not bad for a notebook that was about two weeks short of the warranty expiring.

I'm not trying to be a wise a@@, but when did Apple make a Pismo. I do remember them, but not being made by Apple. I am sorry, I don't recall the manufactuer for them at this time.:confused:
---
ok, to say something good about this preview: ichat looks great! Really looking forward to that! :)
---
From Vista Help:
"Previous versions of files and folders are copies that Windows automatically saves as part of a restore point. Any file or folder that was modified since the last restore point was made (usually 24 hours earlier) is saved and made available as a previous version. You can use previous versions of files to restore files that you accidentally modified or deleted, or that were damaged."

I can use this now but without childish animations. Simple right-click the folder and select "restore previous versions".

from your description, the 'restore previous files' thing is more like backup&restore

If apple really is using zfs in leopard, then time machine is going to be a lot more than just saving files and restoring them.... It's more like 'hey we got some extra disk space. instead of overwriting this file, lets write it somewhere else so the old version is still there :D'

i.e. ALL versions of all files are saved until you run out of space, then you start to lose old stuff. Well i guess there might be some modifications so it only applies to certain files or something...

i do hope they lose the space stars background on it though... replace it with a rotating spiral and i'd be happy :D
---
Hey for what its worth, i understand where you're coming from Zadillo BUT some people still find the joke funny and therefore it deserves to be told.
---
SiliconAddict
Aug 5, 08:01 PM
*shrugs* I have no money so it not that big of a deal for me. It will be nice to know more about 10.5.
---