Katie Holmes simple bob
A Merom thread? On my MacRumors?

http://guides.macrumors.com/Merom
---
Katie Holmes and Suri Cruise
Bill McEnaney
Mar 1, 05:00 AM
What I do is none of your damn business. And your opinion has no bearing on my life. Why you feel the need to tell others what to do is beyond me. Take care of your own house, let me take care of mine.
I don't want to know what Lee does. I've said what I believe. I haven't told anyone to do anything.
---
Katie Holmes#39; short hair
briansolomon
Jul 14, 05:26 PM
It's about time. For a company that prides itself on innovations, features, and ease of use this is something that should not just be coming to fruition now...and should have never been eliminated from the G5 during the change from G4 <<<weird wording but I think you all will get the idea
---
Katie Holmes 2009
I think we all saw this coming with Microsoft setting Apple up for this with their feeble Zune; I'm not surprised. I mean it is not like Microsoft is actually going to pay up, as they would have to actually sell a unit before they did that, ha!

Universal has it coming if they think that the leading digital media player manufacturer is going to dish out money to them for a product whose production/ingenuity they have nothing to do with. Correct me if I'm wrong, but I don't believe that Sony ever paid $10 to each music company for each CD player they sold. This is like forcing Apple to pay a fee to the manufacturer of my desk because my iBook sits on it. Jobs has no reason to give in. Apple holds 75% of the cards in the US market alone, and if other people want in on the action, they should consider themselves lucky if they are chosen. I smell a boycott...
---
2009:Katie short Holmes
Iconoclysm
Apr 19, 08:31 PM
honestly i don't understand Company Obsession.

Its fine to love gadgets, regardless of company, but to be blindly following a multinational corporation whose only motivation is $$$ for its shareholders, its kinda retarded.

EVERYONE. BE A GADGET FAN. DON'T OBSESS OVER A COMPANY.

Right, just love those gadgets and ignore that the manufacturer that's making your favorite ones...and changing the entire direciton of multiple industries...happens to be Apple. Honestly, you're doing the flipside of the coin here - you're purposefully fooling yourself into being a "fan" of everything. Which is actually, a lot worse.
---
short hair - katie holmes
portishead
Apr 12, 12:35 PM
So wait,on the projects you're working on,is everyone using recorders to record direct to prores or do you enjoy having to waste time converting everything you get?

I almost never have to convert. All clients I work with require ProRes deliverables, and any tapeless material I get is ProRes. If I capture I use ProRes.

Then I'm guessing you do your cross fades manualy?

I just delete any transitions before. It's not that hard.

edit:and I do get your point,it works,but other competitors over the last couple years have brought improvements that I'd like to also see in FCP

I know trust me. I have a HUGE LIST of improvements, but overall FCP still works well for me for 90% of my projects.
---
Katie Holmes Haircut
iJohnHenry
Apr 27, 10:29 AM
More like arguing about where the dessert forks and soup spoons go in the place settings. I don't think lifeboats have even entered into the conversation.

I believe the 'long form' is rearranging the deck chairs. :)
---
katie holmes hair 2009.
Chupa Chupa
Apr 10, 09:12 AM
Something is rotten in the state of Denmark, and it ain't the whole fact that Apple pushed aside every professional vid company just to announce their product. It's that they never have announced pro-level products at/alongside professional trade shows prior to this. CES is one thing, but I don't ever recall Apple ever placing any presence at/during NAB or AES (the latter of which they would present something related to the Logic Pro) before.

You need to consult a doctor ASAP because your memory isn't so good. It's only been a few years since Apple pulled out of NAB. Prior to that Apple use to announce products alongside NAB all the time. In fact the very first version of FCP was announced at Supermeet.

Since then:

NAB '01: DVD SP 1.5
NAB '02, '03: new versions of FCP
NAB '05, 06, 07, 09: new versions of FCS

Anyone else call BS on that whole article?



Huh? Did you see the video. This is a legit NAB discussion panel. But I see where you are coming from b/c it's completely unlike Apple to go off on a new paradigm. I mean Apple would be the last company to shock customers and the industry by ditching the floppy drive at the peak of it's existence. And it would never just completely rewrite a popular consumer program like iMovie. Or take the lead on a new connector like Thunderbolt. Never, because we all know Apple is a company that follows other's lead. :rolleyes:

I since there will be a lot of the usually howling when this new FCP is previewed. It looks like Apple is taking video editing in a completely new direction, hence the sentimental journey back to the place where FCP was first launched. Based on the video Apple is jettisoning old media (TV, Movie) editing for new media (web). The latter market is bigger and it also fits in better with Apple's new consumer-leaning sales model.

Personally I'm excited to see what Tues brings.



Although a new FCP is great news, I'm wondering if the new Motion is going to be equally exciting. It's about time it stepped up and challenged After Effects.

I suspect Apple did a re-think of the entire suite and the Motion graphics will not only give AE a run for it's money but that Motion will be better integrated into FCP.
---
Katie Holmes April 2009 Cover
And here I thought that data wasn't sent to Apple? At least they encrypted it so that you can't tell what actually is sent.

Edit:

But really, they are doing the right thing by truncating the size, removing it from files being backuped, and encrypting the file.

Correct me if I'm wrong, but I thought the wasn't sent argument was short for wasn't sent to Apple to track you personally. You're always sending out some sort of location data whether it be your IP or the wifi data. This was announced as a feature back when they first showed of location tracking on the iPhone (so you can't say it was secret). I guess the assumption was that people would remember context of what was said before. The context was that we knew about the anonymous wifi data and people were claiming location database on the phone was being used by Apple to track people personally (the 3rd party local access as a reasonable concern although a bit unlikely). I guess we should have been more explicit in and hoped people try to understand context instead of only becoming irrationally angry at the words "location". Oh well.

Oh, and I like how people are claiming the non-encryption was said by Apple to be a bug and then acting incredulous. Yeah, that tends to happen when you make something up. The only thing that was a bug was the cache not getting culled over time or deleted completely when location services is off. Encryption is a new feature (that arguably should have been there to start) and the file being backed up was probably an oversight. I have no idea how Apple handles their audits but they should probably look into it since they messed up here and only addressed it after we got yet another "-gate" in the media. (Do they even have a fence at this point or is it just a bunch of gates? Maybe they should make a "-gate" for that.) Informing people is, of course, good. However hysterics and hyperbole don't really do a very good job of that.
---
katie holmes short hair 2009.
maclaptop
Apr 12, 07:51 AM
Maybe they need to wait in order to get 28/32nm A5 chips. No point in having an iPhone 5 with a 3 hour battery life

Or maybe their waiting while the new antenna engineers they hired try and convince Steve to leave them alone to do their job.

They want to put the antenna inside where it belongs.

Jobs ego can't handle it.
---
katie holmes hair
As far as I know he can't, that's the difference. IT has to restore the file for you.
Still, nothing fundamentally new, and definitely not Vista 2.0... ;)

I don't think people are understanding the power of this tool. Sure, it backs stuff up, but what I like about it is that it's basically an automatic versioning (or configuration management) system built into the OS, tailored for a single user, with an intuitive way to search, view, and retrieve old versions. As far as I know, this hasn't been done before.

I do my own personal writing and coding, and it's something I've wanted for a long time. I even considered setting up CVS on my computer so I could do it myself, but never got around to it.

One thing that makes this better/different than other versioning systems, is that it is tailored for a single user. You don't get all the extra stuff that comes along with other version control software that deals with multiple users and file locking, etc. You just get the goodness of having all of your changes. Hopefully it can perform diffs (highlighting the differences between different versions), too!
---
Katie Holmes Shrot Hair
Mattie Num Nums
Mar 31, 02:38 PM
I've been wanting to say this for a very long time. Google's OS has no advantage over iOS. You could even say it has a disadvantage. Having to create a vanilla code base that needs to function on multiple pieces of hardware is complex, more complexity creates weaker system.

But here's my point. The ONLY ONLY reason why Android market share is anywhere near what it is today is because of the Buy One Get One options at most phone retailers. iOS has NEVER done that and hopefully never will. If you didn't care about the phone or service but needed two "Newer Smart Phones" one for you and one for your wife, why not go with the "Blah Blah" model from Verizon where if I buy one today I get the second for free (two year agreement and activation fees required).

Market share means nothing. This platform is doomed unless Google reins it in and get control over it. If they do, providers will be less willing to work with them, if they don't, by by Android.

My Two Cents.
-LanPhantom

You could say the same thing about Apple though. The Apple fad will go away and the extremely closed ecosystem which seems to not be really developing much in terms of UI or having an actual roadmap could end iOS.

I don't understand why people can't just see the pros and cons of both and accept both are great platforms. Its always a WAR with Apple fans. Apple against EVERYONE!
---
katie holmes hair 2009. katie
Hellhammer
Apr 6, 11:11 AM
I am shocked that anyone finds this as a positive.

So you all want a drop from 1.86/2.13 to 1.4GHz CPUs in your 13" MBA? That is a 30% drop.

Then you want another drop of approaching 50% in graphics performance? Remember these IGPs clock in much lower than the STD voltage SB used in 13" MBP.

I find this completely backwards from Apple's current position on both CPU and graphics, and I don't think anyone would end up with a faster or better 13" MBA than the current generation. Apple would certainly have to bring back the backlit keyboard and introduce Thunderbolt to sucker anyone into buying such inferior junk! I would recommend people buy the current generation on clearance rather than lose performance everywhere like this. If this is the chip Apple uses in the 13" MBA, prepare for a big drop in capabilities!

I am still in shock anyone finds this a positive? Have you all read the clock speed? The facts about the chip and IGP in ultra low voltage variants?

I'm pretty sure you are aware that Apple would use LV CPU in 13", not ULV. That bumps us to 2.3GHz plus Turbo. You have said this yourself too and I already covered the reason in my other post.

This is just a MR article and surprisingly, they don't have much idea about the TDPs. Hopefully they will correct their article so people won't live in confusion.
---
2009 | Katie Holmes hair
As I is naught en Amerikan canned sumone plz tell mi wen tanksgifting is? :p

Que?
---
We also seriously love Katie#39;s
Time Machine won't mean much when the HD fails. Back that azz up!
---
Katie Holmes Hair
benthewraith
Nov 28, 07:42 PM
Many years ago a media levy was passed in the United States that applies a "tax" to "consumer digital audio" media (CD-R blanks, DAT, etc.) with the proceeds going to music industry/artists. The justification was to offset losses due to illegal copying of music in digital form (generational loseless copies). This to date hasn't been expanded to include devices like the iPod (at least I don't recall that taking place).

Which makes no sense. If they get compensated by blank CD/DVD sales to offset the money loss from pirating, then why the hell are they suing consumers for P2P?

Actually, I suspected Universal was going to do the same with the iPod, regardless of whether the Zune debuted or not. They obviously can manipulate Microsoft, they'll try and do the same with Apple.

And lets not forget, these are the same people who wish they could sue people for ripping their cds (and burning them again so as to do away with all the DRM **** they put on them).

As to why their music sales have been dropping, if half the songs on the market weren't about pimps and beating hos', probably a lot more people would buy it.
---
Tom Cruise and Katie Holmes: A
Westside guy
Aug 11, 02:27 PM
Hmm... maybe I stand corrected on this - see paragraph three (or four, if you count bullet points as a paragrapn).

T-Mobile USA to End Network Venture with Cingular and Acquire California/Nevada Network and Spectrum (http://www.t-mobile.com/company/PressReleases_Article.aspx?assetName=Prs_Prs_20040525&title=T-Mobile%20USA%20to%20End%20Network%20Venture%20with%20Cingular%20and%20Acquire%20California/Nevada%20Network%20and%20Spectrum)

I was curious; so I went into my V600's network settings and found a Cingular network. I registered with it, and was able to make a call.

I don't understand why this isn't automatic though. I don't always have coverage at times when my Cingular-using office mate does.
---
Katie Holmes New Haircut
To be honest i dont really care anymore. As it is, im leaning away from Apple portables and moving to their desktops. Maybe just maybe if the 15" MBP sports a 16x DL superdrive, Magnetic latch Firewire 800 and maybe an extra USB port i may consider. But to be honest the MacPro is looking like a better candidate for me. My PB is fine my mobile computing needs, its time for a powerful workhorse thats more stable and reliable, namely, the MacPro
---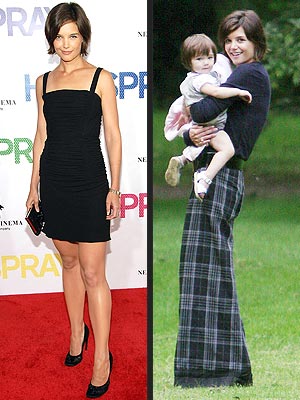 in 2009, katie holmes,
canceled my MBP order
will wait until later
canceled order says shipment date of MBP is also Sept 1st
maybe they are really updating MBP
plz do...
---
apple store isn't down yet. I don't expect it today like a lot of people do

i agree. i think the store would have went down already. next monday has got to be it.
---
REDolution
Apr 12, 05:05 PM
For me personally, as a proud Red One owner, I really hope that the new FCP has native RED support without Log and Transfer and can also utilise our RED Rocket.
---
I guess it wouldn't hurt their future sales to announce international release dates. Several people I know have ordered or bought an iPad 2 simply because it is available (even with order backlogs) compared to Honeycomb tablets.
Here in continental Europe, all I saw so far was an announcement for the second quarter, which can slip to whenever...
Those of you who already got it - is it worth the wait?

I'm thinking of passing on the Xoom at this stage and picking up one of the many other honeycomb tablets instead. Apparently the EEE pad transformer will be launched in Europe in a few days. I saw some reports the Xoom was launched in Canada today with only a few hundred units available. Bit of a joke really.
---
Scarlet Fever
Jul 20, 08:23 AM
wow. 8 cores. *drool

and i was just getting used to dual cores...

i cant wait till they turn up as refurbs... ill own one faster than you can say "no you dont"
---
blahblah100
Mar 31, 05:03 PM
Ah linux trolls are my favorite :rolleyes: I lost count how many times I've answered a question and/or posted on something to have the random linux guy show up and spout "Or just toss out your mac/pc and install linux on a new machine". Of course no one asked about linux.

What?
---